The following reading materials are recommended for further reading on the topic of cryptocurrency trading and investing.
All books below are from Amazon with links to purchase a hard copy, a Kindle edition and an Audible Audiobook where available. Buying the books from the links below helps to keep this educational site running and will be at no additional cost to you.
Cryptocurrency Trading & Investing: Beginners Guide To Trading & Investing In Bitcoin, Alt Coins & ICOs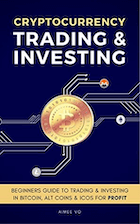 Author: Aimee Vo
Synopsis: If you're new to Bitcoin, the blockchain, have zero technical knowledge and trading experience in cryptocurrencies – then this book is for you. It's the beginner's guide to buying, trading and investing in Bitcoin, Ethereum, altcoins and Initial Coin Offering (ICOs) for profit and in plain English. This book breaks down highly technical information in Bitcoin, blockchain and cryptocurrency investing in an easy to understand, logical and step-by-step manner.
An Altcoin Trader's Handbook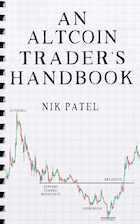 Author: Nik Patel
Synopsis: An Altcoin Trader's Handbook merges almost five years of tragicomic yet insightful anecdotes on the ever-evolving nature of the cryptosphere with a comprehensive strategy for profitable altcoin speculation. The book focuses on maximising the upside potential of capital whilst diminishing downside risks, both of which are possible with speculation on so-called 'microcap' and 'lowcap' altcoins, given the application of proper risk management. Above all, the reader will learn, in exhaustive detail, the three-stage process of research, accumulation and distribution that has been the bedrock of my own success in the space.
The Crypto Trader: How anyone can make money trading Bitcoin and other cryptocurrencies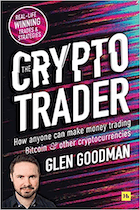 Author: Glen Goodman
Synopsis: Glen Goodman's goal was to retire young and wealthy, escaping the daily grind. He taught himself how to trade everything from shares to Bitcoin and made enough money to realise his dream and quit his day job while still in his 30s. In The Crypto Trader, Glen will show you exactly how he made huge profits trading Bitcoin, Ethereum, Ripple and more, so that you can do it too – without risking your shirt.
Cryptocurrency – A Trader's Handbook: A Complete Guide On How To Trade Bitcoin And Altcoins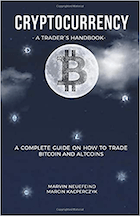 Author: Marvin Neuefeind, Marcin Kacperczyk
Synopsis: Within this book you will learn how cryptocurrencies work, how cryptocurrencies can be used within the economy, how to conduct a fundamental analysis, how to conduct a technical analysis, how to invest confidently and successfully, amongst other topics.
Cryptocurrency Trading Basics – How To Start Making Money In Cryptocurrency For Newbies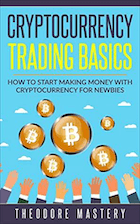 Author: Theodore Mastery
Synopsis: This book seeks to ensure you are no longer a newbie by the time you are done reading and implementing the teachings in this book. This book is a result of tons of research from different sources, blended together creatively into a system that is easy to understand and follow. It is written in simple terms and demonstrated using straightforward examples to increase your odds of success as a trader. What you will learn in this book will not only help you in the cryptocurrency market but also many others such as Forex, gold, stocks, or even real-estate market.
Ichimoku Charting & Technical Analysis: The Visual Guide for Beginners to Spot the Trend Before Trading Stocks, Cryptocurrency and Forex using Strategies that Work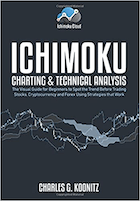 Author: Charles G. Koonitz
Synopsis: With a completely different approach compared to classic indicators like RSI or MACD, Ichimoku provides a solid boost to improve the quality of investment decisions in any financial market: stocks, cryptocurrencies, futures, index funds, commodities, and Forex. The Ichimoku Cloud allows the generation of key trading signals in a single chart. This system has conquered Asia and is about to invade the European and American markets. Ichimoku has five curves with different time horizons, which help to delineate risk areas. More than 100 color graphics and tables are present to facilitate the learning of the reader.
Cryptocurrency: Beginners Bible – How You Can Make Money Trading and Investing in Cryptocurrency like Bitcoin, Ethereum and Altcoins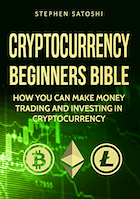 Author: Stephen Satoshi
Synopsis: This book will show you a step-by-step process how you can buy, sell and profit from cryptocurrency – even if you don't know the difference between a Bitcoin and a Blockchain. Reduce your risk and learn the safest way to buy, store and profit from cryptocurrency.
Cryptocurrency Investing For Dummies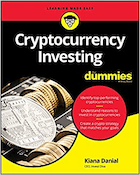 Author: Kiana Danial
Synopsis: Cryptocurrency Investing For Dummies offers trusted guidance on how to make money trading and investing in the top 200 digital currencies, no matter what the market sentiment. You'll find out how to navigate the new digital finance landscape and choose the right cryptocurrency for different situations with the help of real-world examples that show you how to maximize your cryptocurrency wallet. This book explores the hot topics and market-moving events affecting cryptocurrency prices and shows you how to develop the smartest investment strategies based on your unique risk tolerance.
---
SEE ALSO:
4.3 Recommended Books on Trading and Investing in Cryptocurrencies

(this page)