The following reading materials are recommended for further reading on the topic of blockchain and cryptocurrency mining.
All books below are from Amazon with links to purchase a hard copy, a Kindle edition and an Audible Audiobook where available. Buying the books from the links below helps to keep this educational site running and will be at no additional cost to you.
Blockchain Revolution: How the Technology Behind Bitcoin Is Changing Money, Business, and the World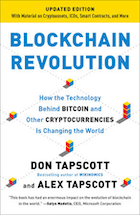 Author: Don Tapscott, Alex Tapscott
Synopsis: In this revelatory book, Don Tapscott, the bestselling author of Wikinomics, and his son, blockchain expert Alex Tapscott, bring us a brilliantly researched, highly readable, and essential book about the technology driving the future of the economy. As with major paradigm shifts that preceded it, blockchain technology will create winners and losers. This book shines a light on where it can lead us in the next decade and beyond.
Blockchain Basics: A Non-Technical Introduction in 25 Steps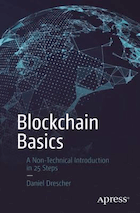 Author: Daniel Drescher
Synopsis: In 25 concise steps, you will learn the basics of blockchain technology. No mathematical formulas, program code, or computer science jargon are used. No previous knowledge in computer science, mathematics, programming, or cryptography is required. Terminology is explained through pictures, analogies, and metaphors. This book bridges the gap that exists between purely technical books about the blockchain and purely business-focused books. It does so by explaining both the technical concepts that make up the blockchain and their role in business-relevant applications.
Blockchain Bubble or Revolution: The Present and Future of Blockchain and Cryptocurrencies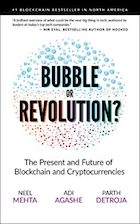 Author: Neel Mehta, Aditya Agashe, Parth Detroja
Synopsis: Some experts say that cryptocurrencies and blockchains are just a scam; others say they're "the most important invention since the internet." It's hard to tell who's right. Authored by Product Managers from Google, Microsoft, and Facebook, Bubble or Revolution cuts through the hype to offer a balanced, comprehensive, and accessible analysis of blockchains and cryptocurrencies. You'll learn the core concepts of these technologies and understand their strengths and weaknesses from real-world case studies; dive deep into their technical, economic, political, and legal complexities; and gain insights about their future from exclusive interviews with dozens of tech industry leaders.
Blockchain: Bitcoin, Ethereum & Blockchain: The Beginners Guide to Understanding the Technology Behind Bitcoin & Cryptocurrency (The Future of Money Box Set)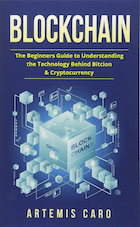 Author: Artemis Caro
Synopsis: The goal of these books is not to plumb the depths of mathematical wizardry, as much of the available information dealing with Cryptocurrencies & Blockchain assumes a fairly advanced level of experience with cryptography, computer programming, financial markets, and mathematics in general, but rather to serve as an introduction to the broader architecture and conceptual background of cryptocurrency technology. Get the Kindle version for FREE when you purchase the paperback!
Blockchain: Ultimate guide to understanding blockchain, bitcoin, cryptocurrencies, smart contracts and the future of money.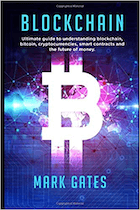 Author: Mark Gates
Synopsis: Blockchain technology has been called the greatest innovation since the internet. Governments and companies are rushing to implement blockchain technology in a range of areas that could impact every person on the planet within a few years. Is blockchain technology one of the greatest technological revolutions in history or is it just hype? Will blockchain technology cause governments and banking systems to change the way they process information or will it be business as usual? In this book, we'll look at the answers to these questions along with addressing the different sides of the arguments, for and against, blockchain technology.
Blockchain: The Next Everything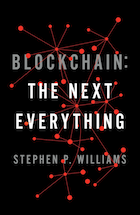 Author: Stephen P Williams
Synopsis: In this deft, fascinating, and easy-to-digest introduction to one of the most important innovations of recent times, Stephen P. Williams answers these questions, revealing how cryptocurrencies like bitcoin are just one example among dozens of transformative applications that this relatively new technology makes possible. Taking us on a dazzlingly vivid tour through the systems predicted to soon underpin economics, politics, global trade, science, art, and numerous other aspects of our everyday lives, Blockchain: The Next Everything is a truly extraordinary journey into our future.
Blockchain for Everyone: How I Learned the Secrets of the New Millionaire Class (And You Can, Too)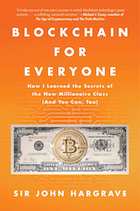 Author: John Hargrave
Synopsis: When John Hargrave first invested in cryptocurrency, the price of a single bitcoin was about $125; a few years later, that same bitcoin was worth $20,000. He wasn't alone: this flood of new money is like the early days of the Internet, creating a new breed of "blockchain billionaires". In Blockchain for Everyone, Sir John reveals the formula for investing in bitcoin and blockchain, using real-life stories, easy-to-understand examples, and a healthy helping of humor. Packed with illustrations, Blockchain for Everyone explains how (and when) to buy bitcoin, cryptocurrencies, and other blockchain assets, with step-by-step instructions.
The Real Business of Blockchain: How Leaders Can Create Value in a New Digital Age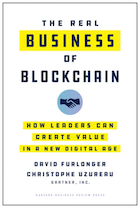 Author: David Furlonger, Christophe Uzureau
Synopsis: Blockchain is transforming business. What's your strategy? Forward-thinking organizations such as the Australian Stock Exchange, Equinor, the City of Austin, and dozens of others are exploring how blockchain can transform the way they create and seek value. The Real Business of Blockchain is one of the first books on this transformative technology written for business leaders. Authors David Furlonger and Christophe Uzureau cuts through the hype and helps you unlock the vast potential of this transformative and potentially world-changing technology.
Beyond Blockchain: The Death of the Dollar and the Rise of Digital Currency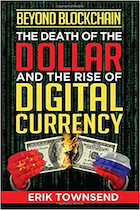 Author: Erik Townsend
Synopsis: Townsend first gives readers an introduction to both conventional money and digital currency, then gives a detailed introduction to relevant monetary history subjects, and finally ties it all together and explains how a state-sponsored digital currency system could steal the title of global reserve currency from the U.S. Dollar and change the balance of world power.
Blockchain For Dummies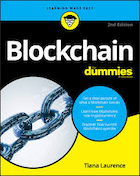 Author: Tiana Laurence
Synopsis: Blockchain technologies are disrupting some of the world's biggest industries. Blockchain For Dummies provides a fast way to catch up with the essentials of this quickly evolving tech. Written by an author involved in founding and analyzing blockchain solutions, this book serves to help those who need to understand what a blockchain can do (and can't do).
Cryptocurrency Mining: A Complete Beginners Guide to Mining Cryptocurrencies, Including Bitcoin, Litecoin, Ethereum, Altcoin, Monero, and Others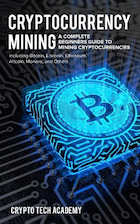 Author: Crypto Tech Academy
Synopsis: In this complete beginner's guide to mining cryptocurrencies, you will be directed step-by-step on how to start mining cryptocurrencies for the various cryptocurrencies listed. This includes Bitcoin, Altcoin, Ethereum, Monero, and more! From abstract concepts to the most minute detail, this guide covers everything you need to know to start your mining operation. Hardware, software, websites, account setup, mining pools, and everything in between. Discover the methods and techniques used by the most successful Bitcoin investors so you, too, can profit and succeed!
Cryptocurrency Mining For Dummies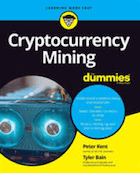 Author: Peter Kent, Tyler Bain
Synopsis: This book shares the insight of two cryptocurrency insiders as they break down the necessary hardware, software, and strategies to mine Bitcoin, Ethereum, Monero, LiteCoin, and Dash. They also provide insight on how to stay ahead of the curve to maximize your return on investment. From the basics of cryptocurrency and blockchain to selecting the best currency to mine, this easy-to-access book makes it easy to get started today.
---
SEE ALSO:
4.2 Recommended Books on Blockchain and Mining

(this page)